The CAE team had a busy week at Cisco Live EMEA, held in Amsterdam between 6th to 10th February 2023, taking the opportunity to highlight why we are 'all in' with Cisco security.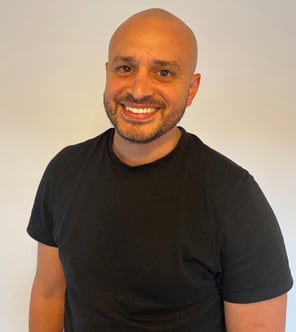 Our Head of Technical Strategy & Direction, Dene Lewis, shares his key highlights from the event.
Cisco Live was a week to remember! As a first timer, I wasn't sure what to expect so I made the most of the 23kg suitcase allowance and packed for all scenarios. It was a busy week but so worth it with many productive meetings and insightful sessions. And it was great to see some old colleagues doing well, and finally meet new connections in person after all these video calls.
Cisco Live allowed CAE and our customers to gain an insight into Cisco's plans so we can better work with our customers. Their key priorities of Security, Observability, and Sustainability were made clear throughout the week.
Here are my take-aways.
Cisco is all-in on security and is making the right decisions, both technically and in leadership, to execute its end-to-end strategy, reinforcing CAE's decision to focus on Cisco security. Many customers we spoke with appear to be on a SASE journey, whether they were just starting to identify challenges or already implementing solutions. This area is going to be important for many in the near future.
Through observability, our customers can use data-driven insights to keep users securely connected, with uninterrupted access to the apps they need to run their businesses. This, combined with a push for simple management platforms is powerful. Cisco are focused on creating easy to use platforms with a consistent look and feel. The Meraki cloud dashboard is becoming increasingly critical in delivering this strategy, which is music to CAE's ears.
Something close to our hearts at CAE and very well received by our customers was Cisco detailing how it is preparing for a sustainable and digitally connected future, along with providing training in digital skills over the next ten years. Cisco Live strengthened my belief that by working together, we can build digitally connected future that's both sustainable and prosperous.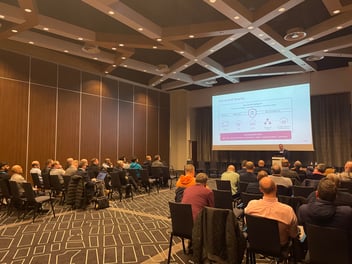 A first for CAE this year, we held two fringe customer sessions, giving us the opportunity to showcase the exciting innovations we are working on with CAE Labs and Security to help customers' on their Network Automation and cyber security journeys. Customer engagement was high, even after long days at the conference; it was great to see CAE's technology strategies align to Cisco's priorities and our customer's needs.
Which leads me too my final thoughts…
CAE is full of talented individuals, and I was blown away by my colleagues' performances during the week. From events to demos, exams to customer and vendor discussions, it was amazing to see everyone excel. This only strengthened my passion for what I do and my excitement for what's to come.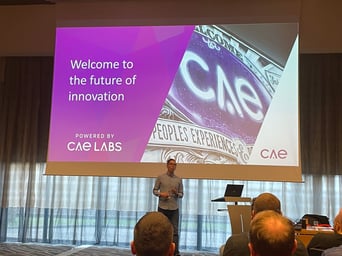 A personal highlight for me, and moment of pride as I watched all our team across the entire event, was to see our values on display in abundance; working together and doing it different as the team shared how we are creating more good days for our customers. Loving your job was definitely felt, shown and experienced by all as we shared our vision of an end-to-end Security strategy in action, in collaboration with Scott Manson (Cisco Director of Cyber Security, UK&I) & Yves Mertens (Cisco Managing Director of Cyber Security EMEAR).
And to top it all off, Pierluigi Colina confirmed what I've been saying for years: that I'm a football expert. It was great to have it rubber stamped by the GOAT himself!
The Cisco Live experience further cemented in my mind why CAE are unique in the industry and really flew the flag for all the amazing things that absolutely make CAE not only the certified best partner in the UK, but in our view, globally.
Cisco Live was equal parts brilliant and exhausting, but I came back home with even more conviction in CAE's direction and capabilities, thanks to our core vendor who has the right strategy. Amsterdam is a stunning city, and I can't wait to go back and properly explore it.