Company secures prestigious Cisco UK&I Partner of the Year award among haul
As a company that prides itself on creating More Good Days for its customers, it is an amazing feeling to be on the receiving end of such an emotional high. Last week we were honoured to be awarded, not once, but four times by Cisco at the 2022 Cisco Partner Summit, in Las Vegas.
Our growing trophy cabinet now includes:
UK&I Partner of the Year
UK&I Software Partner of the Year (for the second year running)
UK&I Security Partner of the Year
UK&I Public Sector Partner of the Year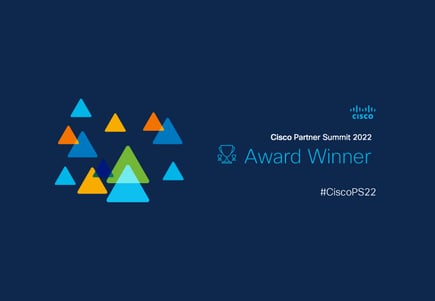 The Cisco Partner Summit UK&I awards reflect the top-performing partners based on attainment and approach, where results are proven to be backed up by solutions and services capability that deliver for customers.
Justin Harling, Chief Executive Officer at CAE commented: "The recognition bestowed by the awards is testament to all the time and effort that has been put in by teams from across the business. It is a unique combination of relationship, technical and innovation skills that has allowed us to build the best Cisco networking practice in the country, and it is the partnership with Cisco and our customers that let's us make a difference and transforms outcomes.
The platforms we are building are built to last and we can't wait to drive more change and keep demonstrating why what we do is so relevant and differentiated in the current market place. Thank you to everyone that helped make this happen, we look forward to what comes next."
The notable haul of awards highlights innovation, leadership and best practice as a Cisco partner and further reinforces our continued commitment to helping address all demands in our ever changing world - to provide more good days to our customers, through seamlessly integrating Technology on Point.