Cloud solutions - tailored to your organisations needs
Moving to the cloud is a unique journey for every business. It is important to set a clear and effective strategy that involves figuring out the right place for all your different assets, and road mapping the path you'll take to get there: your cloud transformation vision.

With CAE there are no pre-defined answers: the route we take together will depend entirely on your own hybrid or public cloud needs. We'll plot a roadmap that gets you where you need to go, negotiating any potential hurdles along the way.

Making the move to cloud connectivity is a transformational step. 
At CAE, we'll ensure that transformation is a success.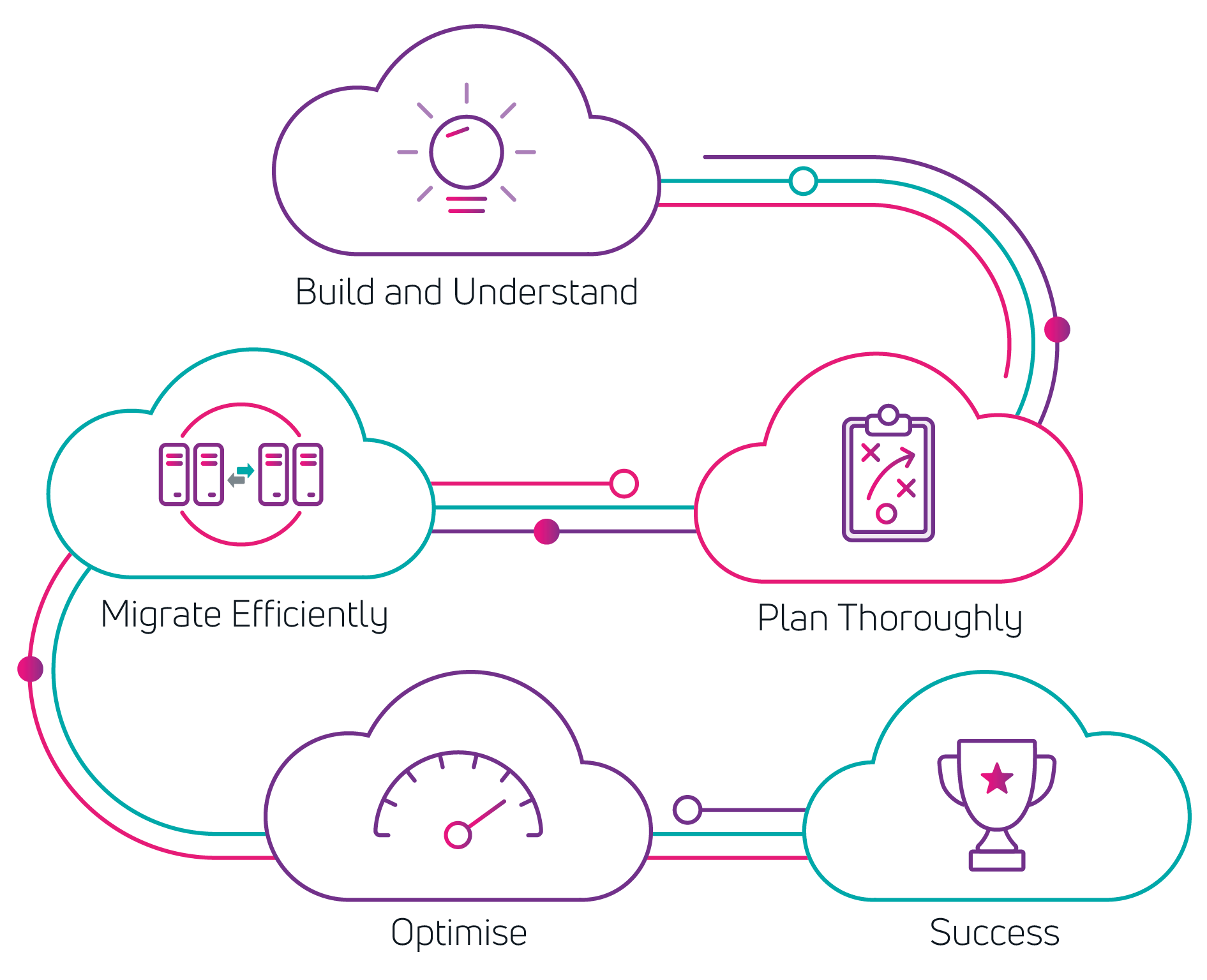 Why cloud?
Don't stand still, or you'll get left behind. With the adoption of cloud technology, your competitors will be exploiting the benefits of deeper insights and flexible, future-proof solutions. Stick where you are, and they will have the advantage.
But what exactly are the advantages you can't afford to miss? Here are just a few.
Intelligent insights. Get the in-depth data you need to report on your business and keep up with your sector
Cost savings. Once you move to the cloud you won't look back. There are significant savings to make, not just in terms of hardware and maintenance, but also improved efficiency across the business
Flexible and scalable. Things change - but your cloud platform will adapt to your needs month by month 
Security built in. Keeping your data protected is always a concern, but with enhanced security features, your resources are in good hands 
Automated backups, for seamless business continuity. So if the worst happens, you can get back to work quickly
Easier to manage. Monitor and manage your cloud data centre from a single screen
Just pay for what you need. With a modular setup, there's no need to pay for the features you won't use. If things change? It's easy to add extra features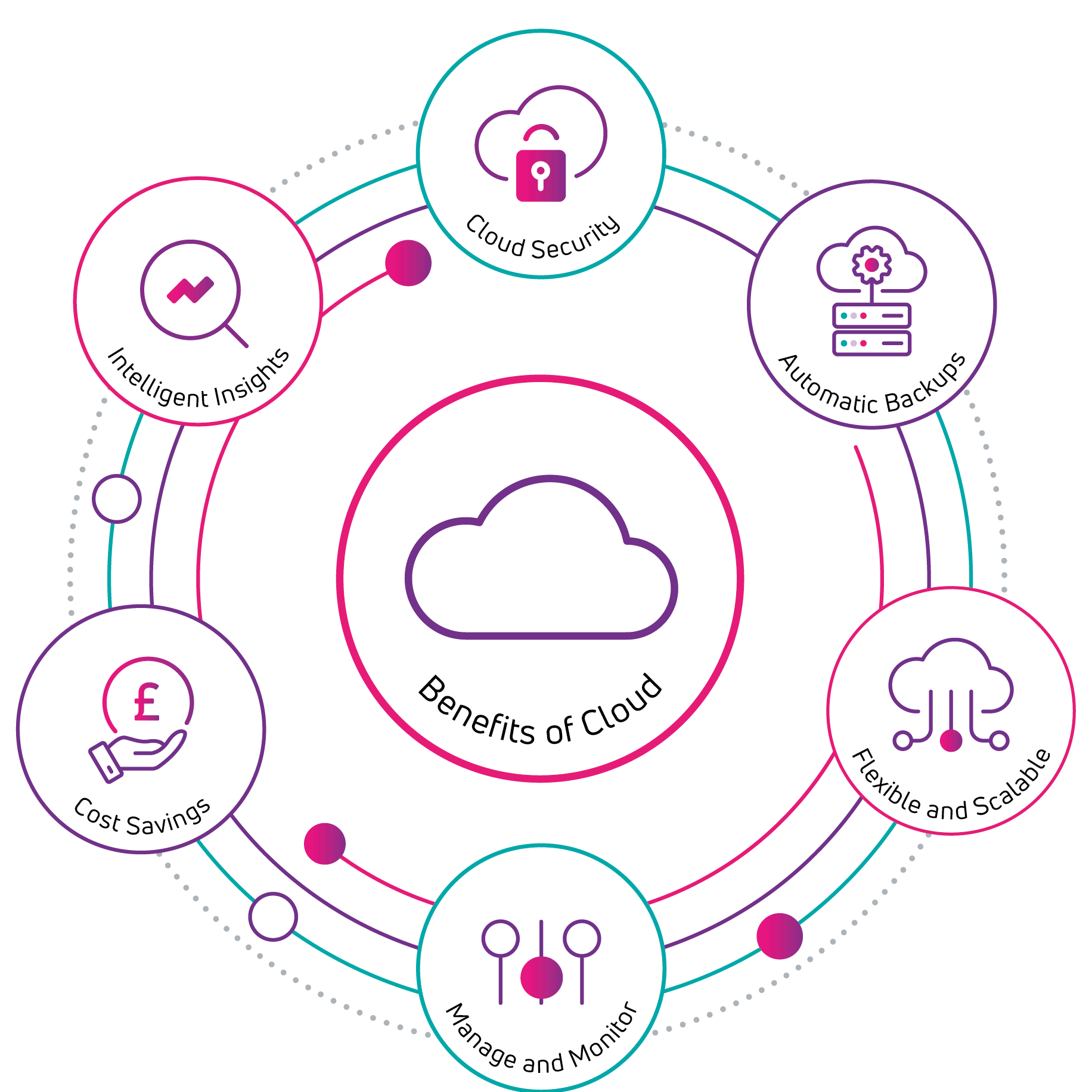 Hybrid cloud
It doesn't have to be one or the other. Some companies choose to only migrate some workloads to the cloud while keeping others where they are.

The advantage of the hybrid cloud is the flexibility to scale and ability to move workloads to the best-value and most appropriate environment. 
With CAE you can transform your data centre into a hybrid cloud environment with almost limitless potential.
Microsoft Azure cloud services
Microsoft Azure is a cloud platform that can support both your organisation's infrastructure and your applications. With Azure, you can get the best results for your business by improving efficiency, doing away with the cost of onsite data centres, and enjoying 99.9% uptime.
With a powerful ecosystem like Azure, there's so much you can do.
Cost-effective cloud migration
A whole portfolio of cloud-based solutions, services and applications to support your digital transformation
Scalable for changing workloads, and flexible to meet your needs as you grow.
And at CAE, we can help you see its potential. With both the technical insight and functional understanding to offer both strategic and practical support.
We're a Tier 1 Microsoft cloud solution provider, helping you to implement Microsoft Azure cloud services in the best way for your business. 


Moving to the cloud: we're here by your side
Making the journey from traditional systems to the cloud is one of the biggest steps you can make in digital transformation. It's important to get it right. Without skilled planning, many companies experience unforeseen errors, spiralling costs and a system that isn't flexible enough to grow with them over the years.  

If your organisation is planning on moving to the cloud and needs help working out how, that's where we come in. As your trusted cloud migration partner, we'll make sure your new cloud environment is everything you need it to be, offering greater flexibility, efficiency and cost benefits.
It's the solutions and outcomes that count
While many providers can offer a Microsoft Azure cloud solution, it's about so much more at CAE. Taking a truly personal approach to your cloud connectivity needs, we'll assess what you need as a business, and make it happen for you.  

At CAE, it's not just the products - it's the solutions and outcomes that truly add value.
Expertise, knowledge and collaboration: cloud migration the CAE way
Cloud services and solutions are only as effective as the people behind them. That's why, at CAE, it's the people that matter. You'll work closely with a trusted partner, benefiting from the knowledge and experience you need to get the most out of your solution.  

And if at any point you need something extra - security advice, for example, or networking expertise - we've got it covered. We offer a wide range of wraparound services designed to take care of everything you need.
How we work
At CAE, we'll be with you through every step of your cloud transformation journey. With the expertise you need to provide both strategic and technical support, we'll be with you from migration to ongoing modernisation.

There are 5 stages in the cloud transformation process:
Discover and assess, to understand where you are and where you need to be

Rationalise, creating a cloud strategy and visualising outcomes

Plan and align, using design and deploy Azure Landing Zone

Adopt and optimise, migrating your workload to the cloud environment

Transform. Continue to monitor and improve your cloud solution, with managed support services on hand from

CAE
Cloud services from CAE
Tread your own unique path, with bespoke cloud transformation solutions from CAE.
We'll be there at your side to assess, analyse and outline your requirements, building a cloud roadmap that takes you all the way from planning to implementation and support.