For over ten years, HIMSS have been a global healthcare body guiding healthcare organisations on adopting technology. Through maturity models, HIMSS benchmark and set standards through assessments such as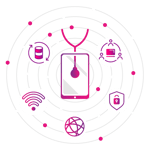 INFRAM, on digital strategy implementation. In 2021, NHS England mandated that all NHS Trusts have a digital maturity plan in place by December 2023 and by March 2025, any trust that doesn't have an EPR (electronic patient record) system in place, should.
Through the HIMSS maturity models, EPR systems fall under the Electronic Medical Record Adoption Model (EMRAM, which is a focus for all trusts). However, how can you have a functional and effect EPR without the correct digital foundations in place?
What is INFRAM?
INFRAM (Infrastructure Adoption Model) is the foundation to any NHS network. It underpins all technology domains in the trust and gives clinicians the ability to seamlessly use IT wherever they are without delay or interruption.
Split into five domains, the model is used to assess where your organisation is on its digital maturity journey, which is measured through INFRAM.
The score you receive following the assessment, will be graded from 0 to 7. Guidelines set by NHS England suggest the minimum level of digital maturity to support an EPR application should be a 5 or above; anecdotally, the average level of digital maturity sits between a level 2 and level 4 across the 5 domains.
Watch our video on Understanding INFRAM:
What are the benefits of the assessment?
Leading your trust into digital maturity has many benefits such as:
understand where gaps existing that are holding back digital maturity
reduce clinicians' frustrations
provide seamless patient experience
reduce expenditure through improved efficiency and time management
Through the HIMSS assessment, we will define the areas for improvement by applying the INFRAM model. Assessing which actions will improve your service and experience all the while moving you up the HIMSS scale.
"We know CAE will always deliver. As a hospital, we're dynamic and sometimes need to act quickly to support transformation. Often time is of the essence. With CAE, we can pick up the phone — and they will help… CAE employees are technically sound; they follow best practice and instill confidence. They have good account management and excellent ties with Cisco." - Matthew Poxon, Head of Networks, Mid and South Essex NHS Foundation Trust Essex NHS Foundation Trust
Our Difference
CAE have partnered with HIMSS as their UK INFRAM Partner. With over 30 years' experience, and knowledge in healthcare, we understand the HIMSS assessment and how to make it intrinsic to your organisation. Our methodology is to understand where you are now, where you want to be and how you can get there. This methodology we have applied to all of our customers, the difference now, is that we have the independent tool INFRAM to measure against.
We not only work through the HIMSS assessment with you and provide you with your score, but through our consultative approach, we will provide you with a gap analysis report. Providing insights to increase your digital maturity. Start your journey with us and find out more.