With the closure of the North Pole, Alaska branch of Blockbusters last month, the bricks and mortar movie rental business has dwindled from 9,000 to just 6 stores – all in equally far flung places where streaming is presumably tricky.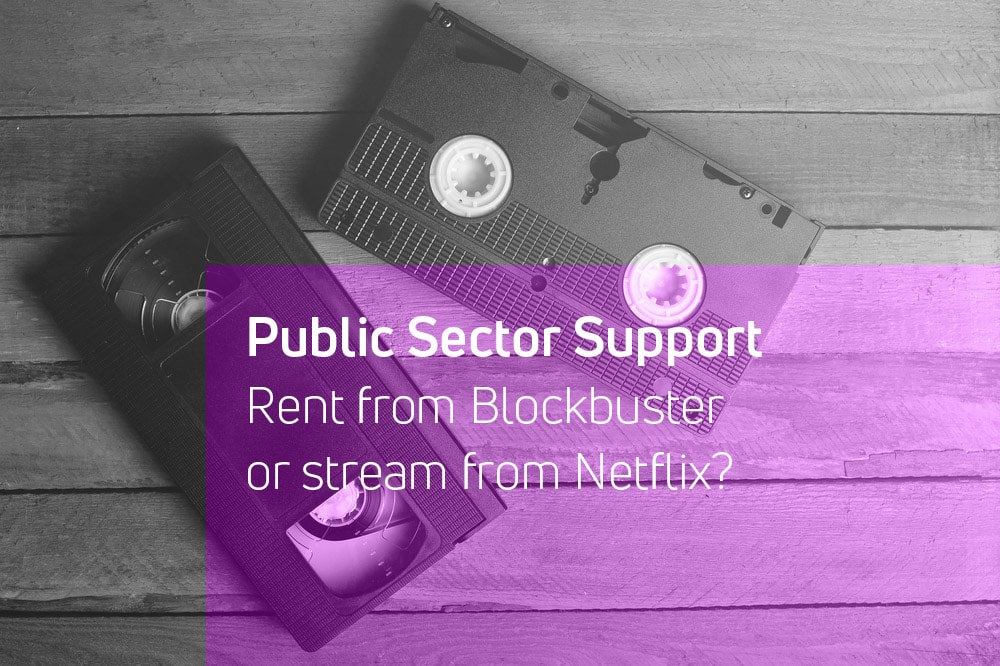 Much can be learned by the Public Sector from the demise of such an institution, which dominated the marketplace for so long but failed to embrace the digital revolution and update its business model. And with up to 70% of profits coming from unpopular late fees, customer satisfaction certainly wasn't central to Blockbuster's ethos
At CAE, we understand that the needs of our Public Sector customers are changing, and the support we offer needs to be more Netflix than Blockbusters – convenient, easily accessible and dynamic.
Most IT services offered to the Public Sector haven't changed in decades, but the hardware and operational expectations have. More than ever, public services are under pressure to optimise the delivery of services, while reducing costs, risks and operational disruptions.
Technology and how we use it is constantly changing – shouldn't the way we support it change?
CAE has taken an agile approach to Public Sector support and utilises digital technology to provide increased estate visibility, while offering a more flexible commercial model which keeps customer success at the centre.
Instead of static, inflexible annual infrastructure support contracts, utility-based pricing reflects that infrastructure is continually changing, providing commercial control and reducing operational expenditure over an extended period.
Our standard managed contract includes free tools to provide added lifecycle intelligence, for a dynamic and up to date view of all infrastructure assets and risks, freeing up technical staff from operational tasks.
And we underpin this with inclusive service management, holding quarterly meetings to assess and discuss changes in infrastructure, service improvement and future planning.
We also add value with complementary innovation management, sharing up to date market intelligence and ensuring that IT staff are ready to embrace the digital revolution, maximising infrastructure potential.
Our inclusive consultancy days ensure we can be available when we are really needed – instead of penalising customers when things go wrong, as a trusted guide, we want to get everything back on the right track as fast as possible.
Flexible, dynamic and customer focused, its party of our Agility Service led approach and we think it is the future of infrastructure support.