FiiT, the health and fitness app, is part of CAE's health and wellness employee benefit package. But how the fitness app was introduced to CAE?
Presales Manager, Emily Riddles has a personal journey with the health and wellness app FiiT, which started the relationship with CAE. In early 2021 we introduced the app to all our people, promoting healthy body, healthy mind. In her own words, Emily tells us of how her love of FiiT began and how she put our CEO Justin Harling through his paces.
FiiT and me
The 29th of September is always a rough day of the year for me. It is my late brother, Dan's birthday. in 2022, I was able to spend this tough mental day doing something amazing.
After winning the CAE quarterly Stars Awards, I purchased an Apple watch with my prize money and wanted to start making use of the fitness tracker immediately. After looking at possible fitness apps, I found FiiT and very quickly became a FiiT addict. With the huge range of classes, programs, and challenges I found it to be the ideal solution to fitting fitness into my daily hectic lifestyle.
Over the next few months, my mental and physical fitness improved and is now part of my everyday life I am much more productive mentally and physically even just from a short 10 minute exercise hit.
Finding FiiT at CAE
After introducing FiiT to CAE, our CEO, Justin signed himself up and started one of the programs offered for beginners, Base FiiT. Fast forward to 2022 and we now have quite a few subscribers from across the company, which proves my personal belief in this platform and its ability to support people with their fitness habits.
The FiiT Event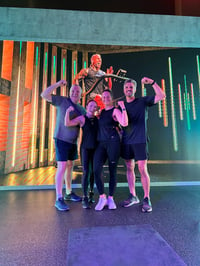 This brings us back to the 29th September 2022. Justin and I had the great pleasure (I say this after the event) of being invited to FiiT HQ at Olympic Park, London. We took part in a 'Tread' Sprint class in the Studio where all the
classes are filmed. Considering that neither Justin nor I have ever run on a treadmill we were both a little nervous. With Justin being pushed a little bit too far out of his comfort zone! However, although really tough, it was the BEST class and such an experience.
FiiT's founder, Sammi Adhami also joined our workout as well as the Head of Fitness, Gede Foster who was there for coaching and support. The endorphin rush after the class was immense and I am still buzzing over 24 hours later.
After the class we had the opportunity to talk through the culture we have at CAE and how FiiT helped us with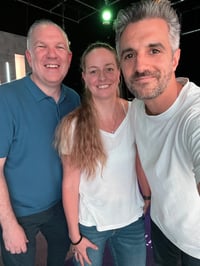 driving the need for us to move more. Not just for the physical benefits but for the mental ones too.
My brother was a huge gym bunny, who loved working out and would have got a kick out of his little sister putting her company's CEO through his physical paces. I found FiiT when I needed it most and am so proud that my colleagues are supporting each other as we continue our personal health and wellbeing journeys.
Part of our culture focusses on the health and wellbeing of our people at CAE. Giving our people access to the right tools they need, when they need is vital to ensuring a safe and healthy environment. Find out more about how we do things at CAE below.

About the author:
Emily started working in IT in 2008, and joined CAE as a Project Coordinator in 2016. After a short-time Emily was expecting her third child and on her return from maternity leave, moved to the Professional Services Operations team. An opportunity arose and enabled Emily to move into the Presales Manager role. Emily has worked across different departments at CAE and has gained a wealth of knowledge and experience in doing so. Outside of CAE, Emily runs around after her three children and was awarded her degree in Photography from the University of Greenwich.