Dell Technologies World kicked off in Las Vegas this year. With a jam-packed schedule our team captured their experiences throughout the event and share the key highlights.
Hear from our team Imran Arshad, Terry Costello and Bello Abubakar what they made of Dell Technologies World 2023.
From the moment we set foot on the buzzing event floor at the 2023 Dell Technologies World conference in Las Vegas, it was clear that Dell continues to excel at technological innovation, leading the industry towards an exciting future. From the edge to the data centre and cloud, every single product exhibited was an epitome of technological excellence.
Day one
Day one has been a great first day at Dell World, with some fantastic sessions, we were truly blown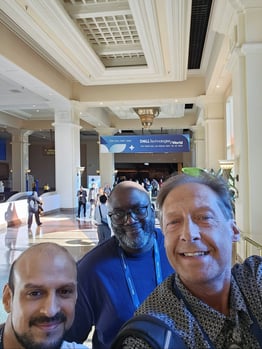 away!
Michael Dell was the keynote speaker today, along with his team and he shared the new ideas inside the world of Dell.
There was a lot to unpack but what excited us the most was the continuation of the close working relationship with Nivida.
Listening to the team, it's clear that with the acceleration of AI in the market place, Dell are starting to deliver on the promise of Project Alpine; where Dell are working to enable storage becoming available in cloud.
There was also a really insightful live demo of the automated configuration of a server. For all of us the key takeaway was to make the most of automating your service deployment using OpenManage Service Configuration Profiles & it was great to watch first-hand how to do this.
At CAE we are looking into the customer adoption for CloudIQ, so it was great to join the session delivered by Susan Sharpe, as she shared some great tips on using CloudIQ.
Our main learning here was, if you have your cyber reporting set up in CloudIQ, you can access the cyber issues and vulnerabilities in your servers and Dell storage.
The next keynote was with James Cameron and was absolutely fantastic, one of our favourite keynote sessions. It provided a brilliant insight into his creative process and how technology has enabled and changed what he can deliver as an artist. It really amplified the need that in order to get the best results, collaboration is essential.
Day two
If it was even possible, day 2 was even better than day 1 – Jeff Clarke and his team delivered a brilliant keynote with a huge amount of innovation announced. We heard from some real-life Dell customers and they shared their inspiring experiences of PowerScale and ECS data innovation.
We also got the chance to watch the fantastic panel discussion with Bosch, Barkley and James Cameron's Lightstorm. They shared their insights and lessons learnt from their own PowerScale journey. Even though they are from different industries, it was interesting to hear that they all had a similar challenge in the scale of data which PowerScale solved.
On top of this, AI was a top topic. A key focus for Dell has been the seamless integration of Artificial Intelligence (AI) and Machine Learning (ML) into every facet of its product range. This pioneering strategy has allowed Dell to propel the capacities of its offerings to new heights, with AI and ML now contributing to everything, from predictive analytics to automated network management…and everything in between.
This not only enhances the efficiency of operations, but also serves to drive actionable insights, allowing businesses to stay ahead in this dynamic era of digital transformation.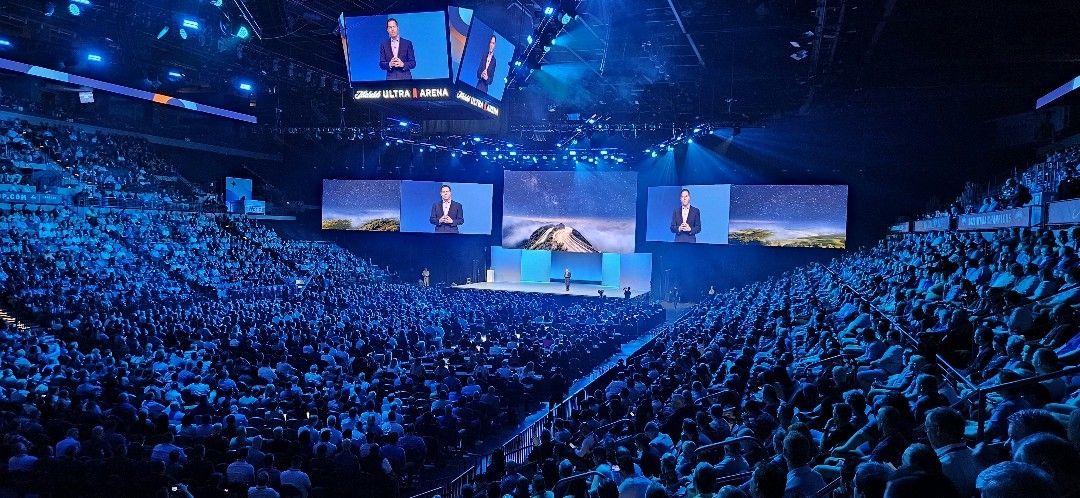 We also heard from Druva, who gave a short session on ransomware threats and attacks. As security is a huge in our industry and wider, the key takeaway was around having a recovery plan in place and regularly testing it. Our latest eBook also looks at how to implement your cyber security recovery plan, download it here to learn more.
Dell's commitment to security is commendable, as the conference emphasized the importance of technologies like Zero Trust, cyber resilience, and ransomware recovery. The concept of Zero Trust, where every access request is strongly verified, is built into Dell's products, offering a robust defense against potential cyber threats.

To further strengthen security, Dell is pioneering innovative solutions to counter cyber resilience. By simulating potential attack scenarios, these solutions ensure that systems are primed and ready to withstand any cyber adversities.
Ransomware recovery has been given a unique treatment with the implementation of air-gapped data backups. This helps maintain the integrity of the data even amidst ransomware threats, allowing organisations to recover quickly and efficiently.
Day three
DTW 2023 day 3, another great day of sessions with just one day left. The highlight session was: Human factors in building a secure and innovative culture.

We were lucky enough to watch a top panel session with three great guests, Frank Abagnale (yes that one from Catch Me if You can fame), Kim Zetter and Oz Alashe, discussing how the Human factor is the most important aspect in securing your organisation. It's nearly always human error that lets an attack into an organisation, despite education and training its human behaviour that often does not change. Our key takeaway from this?
Move beyond education, change and adjust our behaviours to implement a more secure workforce and environment.

The next talk of the day: Deliver extraordinary customer experiences with conversational AI.
This was a mind blowing session delivered by Ananta Nair, AI Technical Engineer at Dell, going deep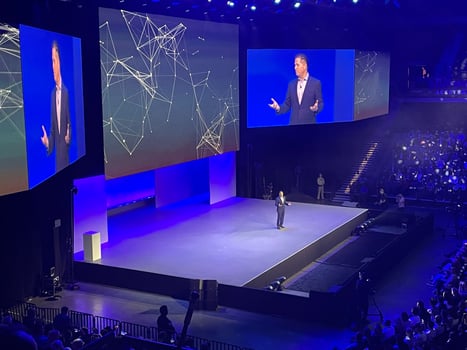 dive into generative AI. Discussions are how ChatGPT works under the covers, typical architecture and training models for generative AI.
We all had a catch up after this session and the human involvement in AI training is crucial, providing supervisory feedback into AI training will have a more accurate and successful outcome.
Edge is becoming increasingly important, and Dell really have the finger on the pulse with this. With the proliferation of Edge devices, there is a need for more secure and simplified deployment and management.
This is exactly what Dell has done with Project Frontier, now called Dell Native Edge. Dell delivered a great demo of this capability, though we would recommend they go to a SaaS platform rather than customer deployed app. Zero Touch deployment combined with Secure Device Onboarding are the keys to this solution.
We also got to spend some time in the Solutions Expo and meet some great people and innovators from across the technology world, such as JetCool who provide liquid cooling without the plumbing and cost of traditional liquid cooling systems.. We finished the day at a customer and partner party and a concert with the Lumineers!
The last day

-

An Astrophysicist
Goes to the Movies Part II
After some long queuing to get in, an entertaining final session from Neal deGrasse Tyson. Continuing on from last year, there are so many movies he could comeback for several years!

In conclusion, these four days have been nothing short of terrific. We've seen Dell redefine the boundaries of innovation, taking huge strides in integrating AI and ML across its product range, and putting a strong emphasis on security. Here's to celebrating Dell's relentless pursuit of excellence and looking forward to more breakthroughs on the horizon.