CAE Technology Services is delighted to announce they have won the 2022 Dell UK Partner of the Year award in the category of Excellence in Business Development. This award recognises CAE among the top Dell partners in the UK for demonstrating continuous growth.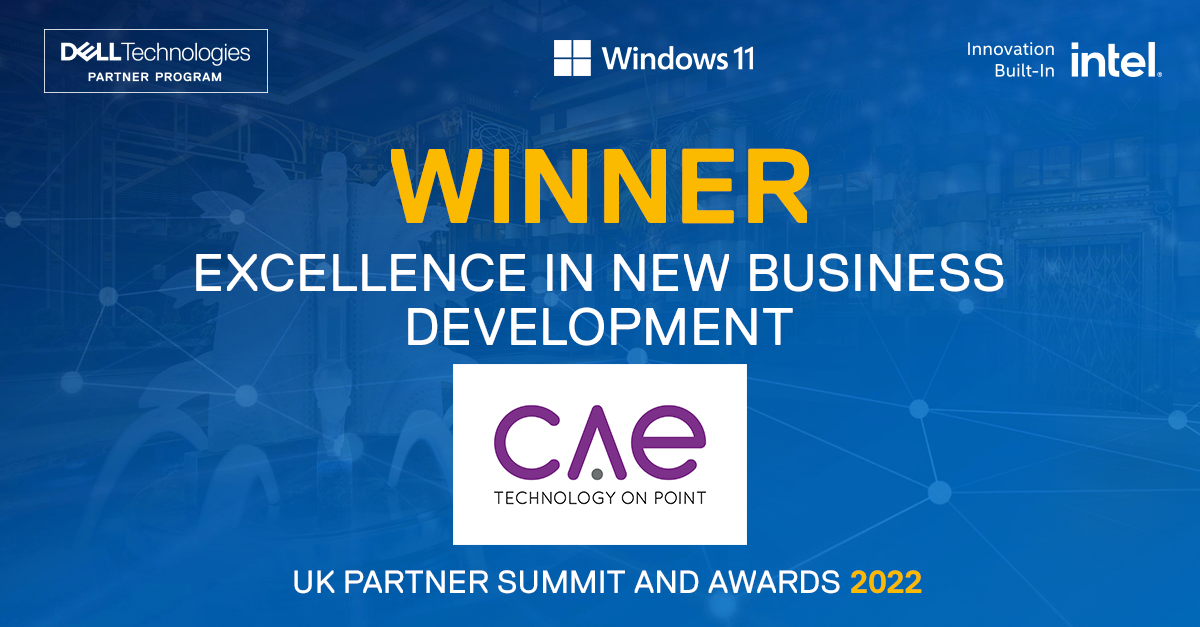 The awards were announced at the Dell UK Partner Summit on 7th July, hosted at The Savoy Hotel, London.
Dell partner awards recognise extraordinary partners who embody Dell Technologies' promise to stop at nothing. Demonstrating their commitment to Dell Technologies' solutions knowledge, collaboration and strength of relationship and who continue to grow and expand into new industry segments.
Announcing the awards, James Hulse, Director National Platinum and Titanium Partners, Dell Technologies commented: "CAE have embraced and driven Dells programmes like PowerUp combined with their own Accelerate to Win initiative driving net new revenue and logos."
Justin Harling, CAE Chief Executive articulated: "To receive recognition for our innovation, expertise and the positive outcomes we deliver for our customers is testament to the continued dedication and passion of our team at CAE as we strive to help our customers unlock the value of technology within their business."
CAE's unique value proposition, built around their approach of delivering technology on point through connecting people and technology for more good days provided the framework for this success, combining consulting, managed and professional services, along with a future thinking approach to ensure the customer continues to realise the benefits of the enabling technologies.
"I would like to thank everyone involved, the success of CAE would not be possible without the continued drive and enthusiasm of the entire team and the support of our partners" concludes Harling.
Ends
Media Enquiries:
Louise Mahrra | Head of Marketing