Celebrating 'Best Medium Organisation for Business Culture' and 'Highly Commended' for Leading with Purpose in Business Culture (Small to Medium Organisation)
16 November 2023 – CAE Technology Services Ltd (CAE) is delighted to announce its exceptional success at the prestigious Business Culture Awards 2023, where we won the coveted title of 'Best Medium Organisation for Business Culture' and received the 'Highly Commended' accolade for 'Leading with Purpose in Business Culture (Small to Medium Organisation).'
Best Medium Organisation for Business Culture: Elevating Culture Excellence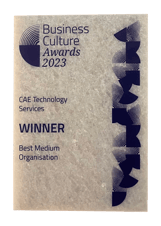 In a fiercely contested category, open to companies with 251 to 2,500 employees, CAE stood out for its substantial initiatives that have demonstrably impacted our business culture. The diverse range of programmes, spanning coaching, wellbeing, learning and development initiatives, as well as the establishment of our purpose, values, and behaviours, contributed to this remarkable win. Judges praised CAE for a 'clearly defined approach that engaged the entire organisation', citing impressive metrics as evidence of our success.

Natalie Hailey, People Services Director, expressed her gratitude, stating, "Our team's development, engagement, and wellbeing have always been central to our business success. The passion and dedication of our amazing people drive our achievements, and with their commitment to our purpose, we're confident we'll reach our future goals."
Highly Commended for Leading with Purpose in Business Culture: A Visionary Approach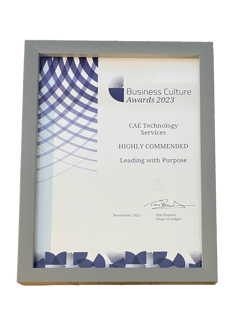 Recognising organisations whose renewed purpose enhances leadership connection, decision-making, and adaptability during change, CAE secured the 'Highly Commended' award. With over 30 years' of using technology to transform people's lives and experiences, CAE's journey towards becoming a culture-driven company is underscored by our commitment to diversity, inclusion & belonging, robust teamwork, continuous learning, and a culture of innovation.

At CAE, we advocate an environment where everyone can belong, be their authentic selves, and contribute to a culture where personal and professional growth thrive alongside innovative solutions.
Investing in Growth and Innovation: Shaping the Future
CAE's commitment to cultivating a culture-driven purpose and fostering innovation is evident in our Learning & Development and Coaching programmes. These initiatives, marked by structured training and hands-on learning experiences nurture a growth-oriented mindset within our organisation but also play a pivotal role in developing the future leaders of CAE.
Justin Harling, CEO added: "Receiving these awards is a real celebration of what we have built. This achievement would simply not be possible without the diverse and inclusive culture we have built up over the past 31 years – focused on supporting our people and their future development."
As we celebrate these accolades, we remain dedicated to our vision of creating a workplace where innovation, growth, and purpose converge, shaping a future where both our team and customers thrive.

Media Enquiries:
Louise Mahrra | Head of Marketing
louise.mahrra@caeuk.com