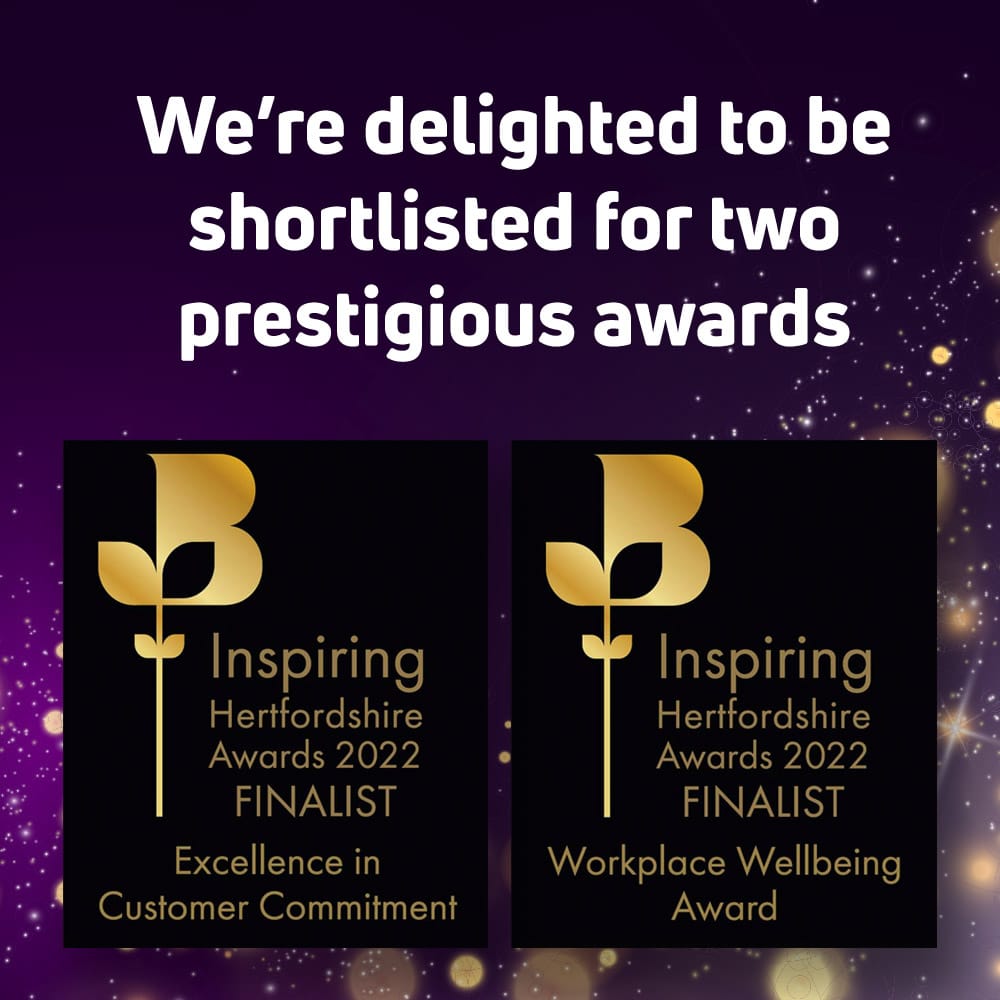 CAE Technology Services has made the shortlist of the influential Inspiring Hertfordshire Awards, in the categories of: Excellence in Customer Commitment and Workplace Wellbeing.
Organised by the Hertfordshire Chamber of Commerce, these awards enable county-wide businesses to showcase their performance and achievements to clients, customers, suppliers, stakeholders, and the business community beyond.
Since 2012, the Inspiring Hertfordshire Awards have been recognising and celebrating the expertise, accomplishments and amazing contributions that businesses and entrepreneurs have made within the Hertfordshire community.
Of the two awards, the Excellence in Customer Commitment category recognises businesses that have a customer centric vision and have developed a strategy that has measurably improved its customer satisfaction rating. Companies must demonstrate how outstanding customer focus has led to increased competitive advantage and business results. The judges will be looking for an integrated, customer driven culture, that persuades people, processes and systems to deliver excellence throughout the customer journey.
The Workplace Wellbeing Award recognises businesses that are creating an environment for their employees to succeed by demonstrating their commitment to the health and wellbeing of their workforce. The judges will be looking for evidence that the health and wellbeing of employees is embedded in the businesses culture, and the activities that the organisation undertakes promote and encourage positive health and wellbeing.
The winners will be announced at the Gala Awards Ceremony on 9th June 2022 at Warner Bros Studios, Leavesden.
"We're delighted to be shortlisted for two prestigious awards," says Richard Behan, Chief Corporate Development Office for CAE. "What makes CAE different is our ability to understand how to personalise solutions and build a long-term trusted partnership based on unrivalled intimacy. CAE's high customer retention rate and Net Promoter Score of consistently above 60 testifies to the quality of these relationships."
"Our commitment to wellbeing begins with our culture. We are dedicated to creating an environment where our people can be at their best, thrive, enjoy work, and grow professionally and personally. Our purpose, supported by purposeful activity, helps fulfil our culture." Concludes Behan.
Media Enquiries:
Louise Mahrra | Head of Marketing