CAE Technology Services is delighted to announce they have become the first Cisco Gold Integrator in the UK to achieve the Cisco Environmental Sustainability Specialisation.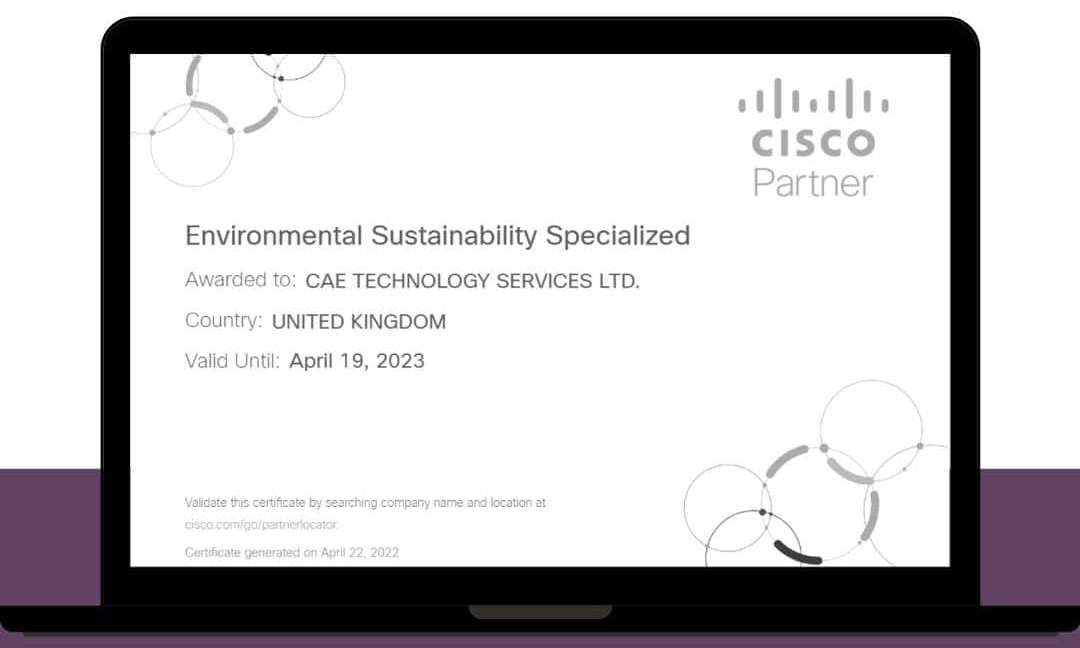 First promoted at Cisco Partner Summit in November last year, the specialisation was launched less than a week ago, with CAE understanding and committing to the programme as soon as possible based on a wider programme of measures that are focused on sustainability.
On the launch, Andrew Sage, Vice President of Global Distribution Sales and Executive Sponsor, Cisco Circular Economy, spoke to industry magazine CRN, commenting: "This new specialisation will teach and certify Cisco partners that help their customers responsibly repurpose or recycle end-of-use products. The best part? Partners only have to reach out to Cisco to schedule the collection their customer's older hardware; no need for the solution provider to handle the refurbishing or recycling.
"As we roll out the specialisation, we're asking partners to take a pledge with us to commit to this idea of the circular economy and product takeback. We think that it's going to help them to have conversations that their customers want to hear, frankly. I think it is going to be super important."
On achieving the specialisation, CAE Chief Executive, Justin Harling, commented: "It feels incredibly fitting that we are able to announce the accreditation and ongoing partnership with Cisco on sustainability on Earth Day. There has been plenty of talk about sustainability targets, but now is the time for action."
"Having already signed up to Tech Net Zero and taken sustainable measures in the new headquarters, it is fantastic that we can work with a strategic partner to deliver circular economy solutions to our customers, and help them manage their supply chain in order to support their sustainability goals." Continued Justin.
CAE is already looking beyond this programme with participation in the Cisco Digital Sustainability Challenge, and a development team with specific initiatives in the pipeline that use technology to help better manage energy consumption.
"We are clear in our responsibility towards our planet and, as always, will put working in partnership with customers and vendors at the heart of how we can change the world." Concluded Justin.
Media Enquiries:
Louise Mahrra | Head of Marketing