I could feel the excitement and anticipation of the day ahead in the air, as I walked through our Hemel HQ door last Thursday. I had heard amazing things about our CAE Assemble event and our annual kick-off for FY24, did not disappoint!
Assemble takes place in July as our new financial year starts, coming together to celebrate the successes of the past year and providing people with a chance to 'hit refresh' and reflect on their own CAE journey over the past year.
About the author: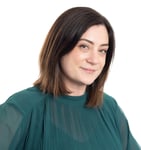 Katie Hunt our Marketing Manager, has been with us at CAE for just over a year. With over a decade of experience in various industries including manufacturing and finance, Katie brings her passion for digital and content marketing to the company with a sprinkling of creativity. Joining the business just after our FY23 Assemble last year, let's hear from Katie what she thought of her first-ever CAE Assemble.
Morning session
A real buzz was about our CAE Hemel HQ on Thursday morning, with purple positive energy for the day ahead. After coffee and breakfast rolls, we gathered on our iconic stairs to hear from our CEO Justin Harling, as he opened up the day ahead. It was amazing to see what the business had achieved, and to see our marketing mission; to bring out the heart of CAE by connecting brand, content and people to create unique experiences, play out.
Learning about how through our innovation and activities we have transformed customers' experiences and lives with more good days was a highlight, delivering on our purpose is what we aim to do every day. We also had the chance to reflect on the year's performance and celebrate our quarterly CAE Stars.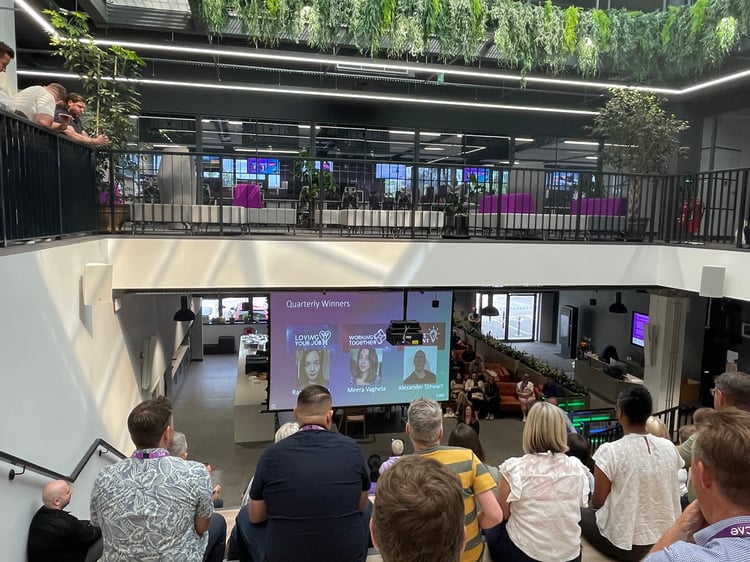 Our CAE Stars is truly an amazing moment to celebrate those that have really embodied our values, working together, loving your job and doing it different. Huge congratulations to our quarterly winners this year who really shone through our values:
Loving Your Job:

Ramona Pavel

Working Together

: Meera Vaghela

Doing it Different:

Alexander Stewart
Lunch is served!
The woodfire pizza from Romanelli's Pizza and burger and chips provided by Chop and Chip went down a storm! The bustling and energetic atmosphere was felt throughout the day but especially during the breakout times where people enjoyed catching up with others over the lovely food provided. Even though it was starting to rain outside, our CAE ice-cream machine came out to finish off a delicious lunch!
Afternoon session
Justin opened the afternoon session with presenting our new value; Advocate Belonging. Aligning to our other values, advocate belonging highlights what we already do:
Recognising that everyone should be able to bring their whole self to work and that we promote an environment that is diverse, equitable and inclusive. It is the big questions and the little actions that matter. By taking that extra thought, we bring people together and support them in being the best they can be.
Watch what Belonging means to us:
Coming back together for the afternoon, we heard from our Senior Leadership Team how each department from across the business had delivered over the last year – wow, we did a lot! Taking what we had learnt from FY23 and applying it to our FY24 plan and activities is going to really amplify our purpose and we cannot wait to start getting to work and continue to provide our people and customers with more good days.
Closing session
Part of our annual Assemble event, is a celebration of people through our rockstars and superstars awards within each department. Those that have really gone above and beyond over the course of the year and a chance for us to all celebrate their passion for loving their job and being part of CAE. Our rockstars and superstars for FY23 are:
Business Development:
Superstar: Paul Thompson
Rockstar: Kay Thomas
Technical Services:
Rockstar: Ian Birchall
Superstar: Nathan Lord
People Services:
Rockstar: Denise Sutton
Superstar: Zahra Ali
Finance & Commercial:
Rockstar: Amit Chohan
Superstar: Hasan Hussain
Novus:
Rockstar - Karena Roberts
Superstar -Tracey Fisher
Some of our team took part in the Macmillan Mighty Hike on Saturday and to raise extra money for the fantastic charity, we held a raffle! Some fantastic prizes were up for grabs, so thank you to everyone who donated and everyone who bought some tickets.
To finish off the day, we took a moment to celebrate one of our true hero's of CAE. If you sliced him in half he would be nothing but purple, an inspirational leader who actually started CAE in a marketing role. His career took a different turn, and it was an honour to celebrate his 20th anniversary with him, our Technical Services Director, Simon Moyes.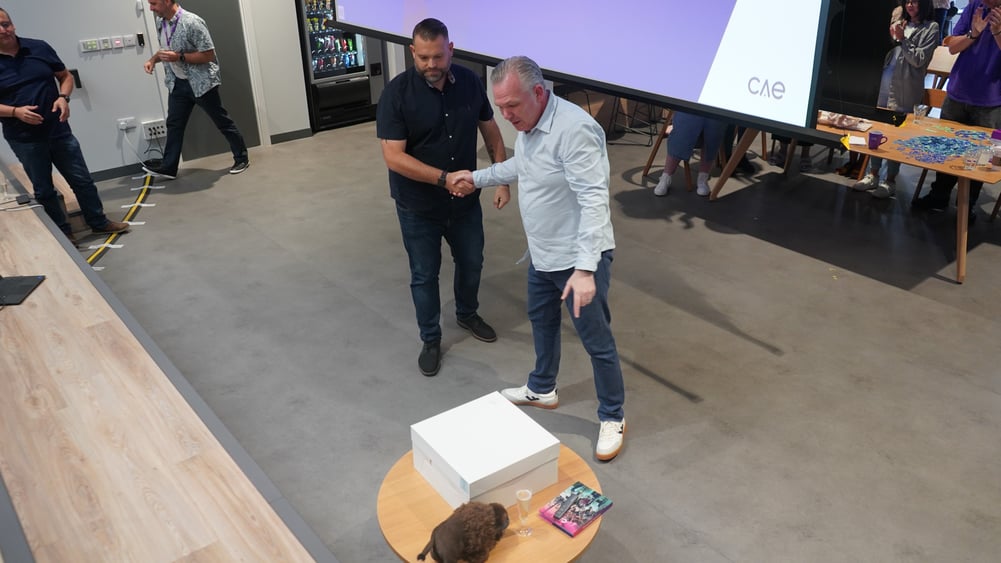 Not only did we toast to our successes over FY23 and open the doors to FY24 but also all of our people, their achievements and future CAE journeys. So, in Justin's final words of the day, CAE ASSEMBLE.
Our people are at the core of what we do. Celebrating our people is our way of saying thank-you for being part of our CAE journey. You can learn more about our people and CAE on the Our People page.