The IT landscape is ever-evolving but the challenges IT leaders face today are very different then those faced a few years ago. The days of packed out server rooms are diminishing and now hold far less hardware as the migration to the cloud continues.
When should I look for a Managed Services Partner?
As organisations move to the cloud, the structure of your internal IT team needs to adapt and change. Managed Services Providers and Technology companies that offer Managed Services solutions are increasingly being used to supplement in-house teams and by aligning the team to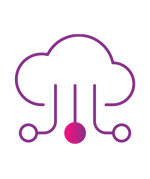 the Managed Service Provider ensures skill gaps are closed.
Organisations may look to keep service-desk teams in-house but outsource the more specialised role of security to a MSP, or to outsource their monitoring to a 24/7 365 days provider.
No two businesses are the same, and a MSP might not be the right fit but for the majority it is. Partnering with a provider to compliment your monitoring solution is forward thinking for modern businesses, especially those that see the value in scalability and capacity.
The 6 reasons
Recent global crises have impacted businesses through managing hybrid working, ensuring effective customer service and crossover of skills. All of which are being sought after through partnering with a reliable and trustworthy partner as the long-term solution.
So why are an increasing number of companies looking to outsource monitoring services?
Cost - The cost of maintaining a 24/7/365 service is high. Complimenting your in-house team provides a lower cost alternative to maintaining a minimum team of eight to run a 24/7 team.

Capacity

– If your incident and alerting levels are higher than your current capacity, then outsourcing may be an option. Alternatively, if your call levels 24/7 are low and you cannot justify the expense of a 24/7 team, then outsourcing the desk elements is an option.



Scale

– 24/7 MSPs enable you to scale as appropriate and enable you to balance peaks and troughs without the need to recruit additional people yourself.


Trust – Partnering to a reliable and trustworthy provider that aligns to your values and best practice gives you the confidence to deliver for your business.



Partnership

– You can still retain your high level skilled people and ensure they are working on tasks that justify the level of experience they have, while your run rate tasks are completed by your MSP.



Skills

– Training and Development across a number of technologies can be expensive and time consuming which can prevent your business's digital transformation. At CAE, we have skills against a large range of core products that all of our 24/7 teams retain.
At CAE we offer monitoring solutions right through to a full Managed Services platform. Our proactive and modular approach to complete infrastructure support is full of answers not questions. We can deliver everything you need to keep having more good days, a real purple patch for your IT.
About the author: Stuart Wiffen joined CAE in February 2022 as our NOC Manager. Stuart has worked in technology for over twenty years managing a wide range of technical teams.. His in depth industry knowledge and experience have been fundamental in striving the NOC team at CAE forward whilst maintaining our exceptional customer service.