What's holding back more good days in IT security?
This is not a story that shines a light on unsung heroes. Most businesses today are more than aware of IT's role for keeping them safe, productive, and able to confidently engage with the outside world. But it is a story that explores the satisfaction levels of IT security professionals, and those factors that can make for a bad day at work.

Not that it's all doom and gloom, as the report also offers pointers for how to dial up more good days. Learn more today with our latest report.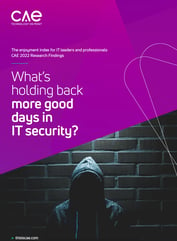 Key findings..
The survey's findings point to a time of transition in IT circles, as workers seek smarter, more automated security tools to relieve them of more monotonous tasks – and to open up the more proactive and strategic aspects of their roles.
To provide More Good Days to our customers, we've independently surveyed over 200 IT professionals to understand what is really holding them back from having More Good Days in IT Security. What really matters and why have they become numb to the noise around them?
Here's what the report covers:
> How a growing number of technology brains are being numbed by the daily grind
> Is security a source of satisfaction or discontent?
> How a frustrating skills gap has appeared
> Why no one wants to feel like an afterthought
> The impact the weight of expectation can have
> The source of plain and mundane aspects in an IT security role
> Making more good days a reality
Download Our Research Report